Johnnie Walker isn't quite right for your taste. No matter the label you're still looking for that oak smell while drinking your whiskey, and you have a pretty good idea how to make your own blend, but you lack in equipment and space. If that's your only concern, you should continue reading this article.
Tabletop Moonshine Still is a compact liquor making kit, which you'll be able to place on your kitchen counter. It's hard to predict that you'll be able to create a whiskey based crime syndicate, because first of all it's not a time of prohibition and besides that you would need couple of years to create the necessary amount.
Tabletop Moonshine is more of a gadget focused towards those home made liquor lovers out there, that just want to add their own flavor to the whole mix. If you're up to the challenge, you only need a stove and this pretty device, to start making your own moonshine.
The two basic elements of the Tabletop Moonshine are a cooling jar and a pot connected with a set of pipes. You just need to poor mash or wine and sugar into the pot, heat it up and wait for the pipes to distill your own homemade moonshine, which will certainly be enough to go through the holiday season this year.
You'll need to keep an eye of the quality of mash you're using because this will determine the quality of the final product. It's advisable to visit a local dealer or get a homegrown mash from a local winery or a farm.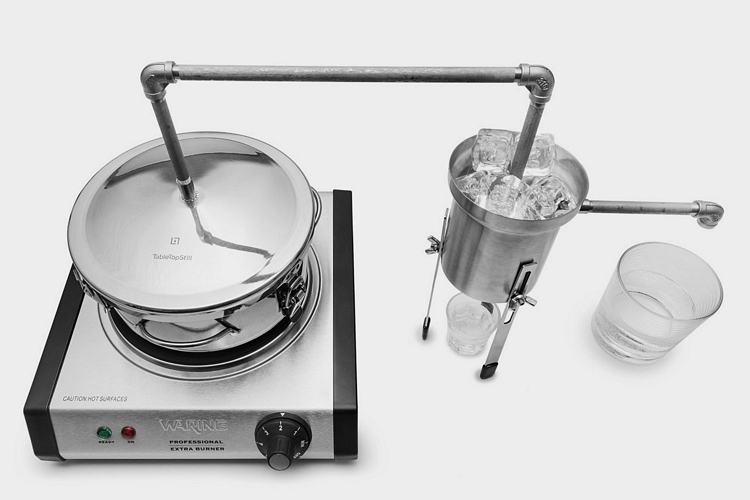 All parts are made out of stainless steel and are quality enough to produce anywhere between 7 and 12 ounces of moonshine, depending from the quality of the mash and the alcohol concentrate. The price is set at $249.98.