Dashbon Flicks is a portable speaker standing at approximately 29x16x13 inches, and is a good proof that size doesn't matter. Pushing the boundaries of portable speakers, Flicks is two or more things combined into a single item. It maybe isn't a mini portable speaker you can carry everywhere you go, but it's surely a piece of audio visual equipment that you'll want to own, especially if you're a social butterfly and attend tons of social gatherings during the year.
The speaker, combined with the built in video projector, is a perfect solution for watching live games or playing movies in your backyard during a barbecue cookout. Like any other speaker it's wireless connectable using Bluetooth technology, but it also has an HDMI port where you can plug a video streaming device. Working with anything in between Roku and Chromecast.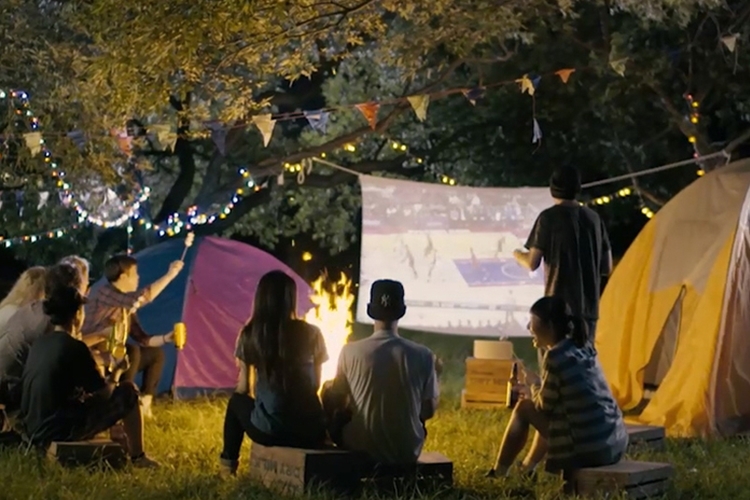 Thanks to the Texas Instrument DLP hardware, this portable projector will surprise you with its video streaming quality. The days of satisfying yourself with a 420p resolution are over. Dashbon Flicks offers a range of 720p in resolution accompanied with over 700 lumens of light during projection, which makes it a leader and innovator on the market.
In ideal conditions you should be able to place the Dashbon Flicks at least 8 feet apart from the projection surface, and it will provide you with a perfect 100 inch picture of whatever your video is. We forgot all about the speaker, but don't worry about it because it offers top of the line sound using two unique audio drivers and subwoofer with a bass radiator. Some of the features included in the package: boombox-like handle for easy transportation, integrated mic, USB port for charging, 3.5mm slots for your headphones and an additional video source, battery that can power up 4 hours of video projection and more than 24 hours of audio streaming.